Shopping Cart
Your Cart is Empty
Thank you for your business!
You should be receiving an order confirmation from Paypal shortly.
Exit Shopping Cart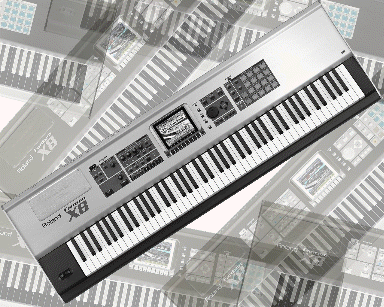 Powerful New Member Of The X-Keys: The Fantom-X!
Roland's Fantom-X series comes in a choice of three keyboards, all with one thing in common: Roland's new sound generator chip which is Roland's most powerful to date. The new Fantom-X Series can play expressive 4-tone patches with 128-voice polyphony. It also raises the Fantom-X Series' waveform capacity to approximately 1GB when fully expanded. What's more, the Fantom-X's internal wave ROM has been doubled with quality sounds that will inspire even the most jaded players.
Roland's Fantom-X at a Glance:
Sounds And Xpandability To Xceed Your Xpectatons

Dedicated Piano Button for instant piano access

Skip Back Sampling And Dynamic Pad Bank for composing on the fly

A True Audio/MIDI Workstation

Complete Studio Effects And Mastering Tools
Sounds And Xpandability To Xceed Your Xpectatons
To fully exploit the potential of Roland's new chip, each Fantom-X comes with a brand new 128MB wave ROM loaded with quality-focused sounds like vivid new string sections, expressive and fat-sounding drums, rich nylon string guitars and an amazing 88-key split acoustic piano, which uses individual stereo multi-samples for each key and every velocity stage. In fact, there are over 700 samples used in this single Patch! Many of the instruments were recorded in world-class studios using vintage tube microphones with the highest Quality preamps and converters, and were mixed by respected studio engineer/producer Dan Blessinger (Martinsound).
Dedicated Piano Button
Choose the Fantom-X8 , and you'll get an 88-note Progressive Hammer-Action Keyboard designed to capture the feel of a fine concert grand. It's the perfect way to play the amazing new 88-key split piano Patch, which can be instantly called up by pressing the Fantom-X Series' dedicated Piano button. This button can be reprogrammed to call up a different Patch or Performance in any order.
Skip Back Sampling And Dynamic Pad Bank
First introduced on the Fantom-S, Roland's Skip Back Sampling has become popular with musicians for its ability to instantly retrieve a performance and turn it into a sample. With Skip Back Sampling, your ideas never get lost because the sampler is constantly recording every note you play, either on the keyboard or Dynamic Pad Bank-while keeping the musical bars in tact. The Fatnom X's 16 velocity- and aftertouch-sensitive pads now sport twice the polyphony and an improved feel for even more natural drum programming and sample triggering.
A True Audio/MIDI Workstation
Whether sequencing MIDI tracks, triggering samples from the Dynamic Pad Bank, or even recording audio directly to RAM, the Fantom-X Series makes putting it all together a seamless process. Lay down a drum track by combining the internal drum sounds with loops, which can automatically sync to tempo via realtime timestretch. Then record some keyboard parts as MIDI and finish your song by tracking a guitar or vocal as audio. The high-resolution sequencer of the Fantom-X boasts up to 400,000-note capacity and supports Standard MIDI File (SMF) import and export, making the Fantom-X one of the best workstations available.
Easy On The Eyes
The Fantom-X Series is the first line of workstation keyboards with a color LCD screen. And once you've seen this display's smart, Color-coded screens, you'll never want to go back! With all the menus and screens in color, navigating the Fantom-X becomes that much more a pleasure.
Complete Studio Effects And Mastering Tools
Fantom-X onboard effects include separate reverb and chorus processors, plus three multi-effects processors loaded with sound sculpting tools ideal for creative sampling. These include algorithms like COSM® Guitar Amp ing, Lo-Fc processing, tempo-synced delay, Slicer, Isolator, multiple effects chains and more. (In Performance mode, all three MFX can be configured for full parallel or complete serial use-or any combination in between.) When you're ready to mix down, simply switch on the dedicated Mastering processor with multi-band compression for tight, punchy mixes.
Get Connected With USB
The Fantom-X8's onboard USB port serves two functions: First, it can be used as a USB-MIDI interface, eliminating the need for an external MIDI interface. Second, it can be used to import and export audio in .WAV/AIFF format. Now it's easy to bring in samples from your computer and use them in a sequence. Likewise, you can quickly mix down your song, resample it in stereo, and then transfer the file to a computer for CD-burning.
V-LINK: The Future Of Performance
The Fantom-X Series is not only a great choice for studio musicians, but also for live performers. Using Roland's V-LINK technology, musicians can trigger and manipulate video clips when connected to an Edirol video editor like the DV-7PR. Imagine being able to instantly trigger clips from the Dynamic Pad Bank, or create transitions and effects using the pitch bender and knobs. It's a live performer's dream!
Roland Fantom-X8 Features:
128-voice workstations with 88-note keyboard (Fantom-X8).

Progressive Hammer-Action Keyboard.

Seamless integration of audio and MIDI.

New ROM waves.

Sampling with realtime timestretch capability.

128MB wave ROM includes 88-key split piano and more.

32MB sample RAM expandable to 544MB.

Optional DIMMs.

Color LCD screen.

Skip Back Sampling.

Dynamic Pad Bank and V-LINK.

3 MFX processors, dedicated reverb chorus and mastering processor.

USB port for MIDI, .WAV/AIFF file exchange and 4x SRX expansion.

PC card slot for backing up samples and data with up to 1GB capacity.

4 Line outputs (2 stereo or 4 mono), stereo

Line input and 24-bit S/PDIF I/O.
Eight linear stereo audio tracks to the already-powerful Fantom-X workstation
Tracks can be played back from any point in the song, and can be synchronized with the MIDI tracks via realtime time-stretching
Multisample waveform editor for serious sample-based patch creation
Upgraded Editor software; plus S-700 CD-ROM conversion software for PC/Mac
Auto-Patch Bank mode creates patches for every sample for quick use in compositions
New Sample Gain parameter (0/+6/+12dB)
For more information about the Fantom X8,

click here
Transparent Lexan plastic works great as an exspansion bay cover, allowing one to view the SRX cards installed in your keyboard. (And it looks cool!)
The 'ROLAND' logo is simply a sticker with a transparent background applied to the cover.
If you are recording piano in Patch mode, because you are using a single MIDI channel to record events, you will find that layered sustain events will cancel eachother out with each subsequent recording.
If you are recording piano in Performance mode, make sure to use a separate track (and therefore a separate MIDI channel) for each layer of your recording. Sustain events recorded will now remain unique to that track.
Just an additional tip when using sustain for recording piano / the Fanom X allows you to choose a 'Continuous Hold' feature which records pedal functions in smaller increments (from 0 to 127) than the default setting, allowing for half-damping or feather pedaling. Normally, hold functions are either 'On'(value=127) or 'Off'(value=0). The advantage to "On or Off' is that sustain events are much easier to edit. The disadvantage is that the sustain effect does not respond as much like a piano sustain.
To set this feature preference, go to Menu-System-Pedal/DBeam.
You can work smooth tempo transitions into your recordings by turning the tempo record setting on. This parameter is found as an option on screen when you hit the record button. Once chosen, start recording, hit the tempo button and dial in any tempo changes you wish to make. I also like to create a tempo at the very beginning of a piece. That way, any changes that are made during play-back will always be reset when I start the piece. In order to do this, choose SONG EDIT / Micro Edit [F8] / Trk/Ch Select [F7] / Dial the TEMPO option and 'Close'. Move the cursor to the right and make the appropriate tempo change. At this point, you can also add a tempo change elsewhere in the piece by choosing Create [F1] and then assigning the change a position in Meas/Beat/Tick.
When multi-track recording MIDI tracks, any part that you record can be resampled as an audio track, using the effect unique to the patch allocated to that part. This is a very effective way of 'freeing-up' MFX, allowing you to use any number of effects. Any patch used in performance mode is able to have the same effects as in patch mode.
There is another powerful reason for using audio tracks that truly demonstrates the awesome capability of the Fantom X keyboard, and that is the conservation of polyphony. When nearing the 128 note limit, resampling the song or phrase and then assigning the sample to an audio track cuts polyphony use down to 4 notes, freeing up 124 notes of polyphony to continue working with!!! That, to me, is amazing! You would do this when you are happy with the overall sound and mix of the music you are sampling. Of course, one must delete the contents of the sequencer to make use of this additional power. Make sure to save the original SVQ file as it's own song file just in case you wish to make minor changes. The SVQ can then be resampled if needed. This entire process can be done more than once!
Effects - Performance Mode - Clarification
In the example shown above, part 1 is routed through MFX-2 (2 voice pitch-shifter) before it is sent to MFX-1 (Multi-stage phaser as outlined by the MFX source setting) and then sent to MFX-3 for a compressor effect. At each stage, varying amounts of chorus and reverb can be applied to the output of each MFX.
Sonar,The Fantom X, and SRX Cards -
With-in Sonar, choose Options/Instruments/Define/Import and then choose the location of the SRX definitions (*.ins) on your hard drive.
When you do this, you will notice 2 things happen - within your 'Define Instruments and Names' page, the card name(s) will appear in the left-hand column. In the right-hand column, under 'Patch Names', a list of names will also appear.
Drag the appropriate list from the right to the left to the 'Patch Names for Banks' folder found in the Roland Fantom X tree. You will then be prompted for a bank number.
To determine a bank number, multiply the MSB value by 128 and add the LSB to that. If you are unsure what MSB/LSB of a particular card is, choose an SRX sound in Patch Mode on your Fantom. These values will be displayed on your screen.
Remember that for each group of 128 sounds, a new bank number is needed.
Having said all of this, http://www.rolandus.com also has a simple program available on their site which allows you to build a Sonar definition by simply choosing your instrument and the SRX boards that you are using.......but you don't learn anything!! :>)
Example - Bank number
11908 = SRX-05 1-128 (MSB 093 / LSB 004)
11909 = SRX-05 129-256 (MSB 093 / LSB 005)
11910 = SRX-05 257-312 (MSB 093 / LSB 006)
To hear a sample of the incredible pallette of sounds the SRX Expansion Boards have to offer, click here!
You actually have a few different options when it comes to moving data around in the sequencer. First of all, you need to understand a little about how the sequencer records. By default, when recording, each metronome pulse represents 1 quarter note. The Fantom records data at 480 ppq (or pulses per quarter note). It slices each metronome pulse (quarter note) into 480 pieces. (Roland calls them 'Ticks')
Quarter note = 480
Eighth note = 240
Sixteenth note = 120
Thirty-second note = 60
sixty-fourth note = 30
Ect.
1) Quantize allows you to correct small timing imperfections by placing a grid over-top of your recording, shifting notes to the rhythm resolution of your choosing. This is a great option if your timing was close but not as close as you would like.
2) Song Edit / Track Edit / Shift Clock(12) - This is an option that allows you to 'slide' data backward (a negative value) or forward in time (a positive value). Choose your track and the measures that you want to edit, then set your 'Bias' value. (Holding the shift button while using the dial quickly changes the value) This option allows you to move a track (or partial track) 10 metronome pulses.(quarter notes) Remember, 2 beats would equal 960 ticks!
3) Song Edit / Micro Edit allows you to move individual notes or events (e.g. pedal hold) simply dial to the note, choose 'Move' (F3), and then the measure/beat/tick that you want it moved to. Remember that you can choose to edit multiple events in Micro Edit by simply highlighting the events while holding the 'SHIFT' button down and using the 'CURSOR' buttons!
4) Song Edit / Track Edit / Extract - unlike 'Copy' mode, this option actually moves the source data from 1 location to the next.
There are essentially 2 ways to control track volume on the 'X'.
1) After a track is initially recorded, you can record volume fader movements over top of it, allowing for fade-in/fade-out of an individual patch. These will show up as cc7 volume changes in the micro-edit screen.
2) You can also add cc7 volume data to any track at any point in a song. This can be done in the micro-edit screen by choosing the Create [F1] option, then choosing to add a Control Change. You will notice that at the point you add this value, the screen will say - CC 1 Modulation - . Move your cursor to the left, and highlight 'Modulation'. Now change this to - CC 7 Volume - and after moving the cursor to the left once more, choose the desired volume . Done!
BTW. I should add that volume changes of patches which use any type of distortion MFX should be recorded in a different manner than described above.
The MFX in the Fantom X are 'post-fader', so when using the mixer to adjust volume of a distortion guitar patch for example, low fader settings will diminish the signal sent to the MFX. Result? The lower the volume, the less the distortion.
The work-around is to record volume changes as Sysex data by manipulating the Master volume in the MFX itself.
Example - You have already recorded a dist. guitar track where the patch uses MFX #39 GUITAR AMP SIM
1) Go to MENU , then [F2] down to the MIDI tab, and make sure you have Transmit Edit Data set to ON.
2) Choose the guitar track.
3) Press the EFFECTS button and then, using [F3], choose the patches' MFX.
4) Press RECORD. (You must be set up to record Sysex data. You can do this at this point by pressing [F7] and making sure that you see a check mark beside the 'system exclusive' option in the 'record setting' screen.)
5) Start recording over the original track, making adjustments to volume using the 3rd control dial as you deem necessary. Now go to the 'Micro-Edit' screen to view the sysex data.
Almost any data value changes in the 'X' can be recorded as Sysex data. The two biggest disadvantages to using sysex are that the data is not easily edited and tends to 'tax' the CPU.
Sysex data is easily erased by going to the erase option in 'Track Edit' mode and choosing 'System Exclusive' in the 'Status' box.
A blank measure at the beginning of a song can give you time to record any sysex messages needed to initially set up a patch.
Important To Know For That 'Perfect' Piano Sound -
There is a 'Resonanace' (F4) parameter found in the Piano Mode button of the Fantom X series keyboards which works quite differently than the TVF filter resonance settings.
Adjusting this resonance value alters the simulated sympathetic resonance characteristics of the acoustic piano sounds. If you are anywhere near a 'real' piano (hopefully one that is in tune), try this -
*Press and hold down Middle C, E, and G without allowing the hammers to strike the strings. At this point, there should be no sound.
*As you hold these keys, play heavy staccato (short) octave C's on the lower half of the piano.
*At this point, you should faintly hear the notes Middle C, E, and G sounding.
*If you were to play octave D's on the lower half of the piano, you would hear nothing!
What you are manipulating are fundamentals and harmonics. On a regular piano, when an individual key is pressed, a damper (felt pad) is lifted off of the string(s), allowing the string(s) to vibrate. When the damper (hold) pedal is pressed, all of the strings are free to vibrate. When a single note or chord is played with the pedal down, all related strings also start to vibrate. This is called 'Sympathetic Resonance' and Roland does an amazing job of simulating this effect! It can greatly 'broaden' a piano performance!
Velocity Editing Made Easy! -
I find that one feature that I keep coming back to when editing sequences on the Fantom X is the 'Change Velocity [7]' setting in the Track Edit screen, specifically the 'Magnify' function. A hidden gem, this allows one to manipulate the amount of contrast in the relative velocity levels within a given track.
Ever wondered how to assign the same velocity to each note, set 'Magnify' to a value of 0%. The velocities of all note events become a value of 64. Use the 'Bias' setting to increase or decrease this value to your liking.
Want to increase the dynamic contrast in your piano performance? Set 'Magnify' to a value anywhere between 100 and 200%. The higher the value, the greater the contrast.
The Fantom X Screen and Screensavers -
Simple but effective, I use my website logo as a screensaver on the keyboard. Simply import multiple 320 X 240 pixel BMP images in 'System'' 'Background' , then set the screensaver to #4 to display a slideshow. You can import a maximum of 16 images. This is an easy way to customize your keyboard. .If they are of the same image, make sure that you give each bitmap a different file name before importing. e.g. file1, file2, file3 etc. Also make sure that the bitmap image is 256 colors, not 24 bit ! While your screensaver is active, you may change the image format by using the pad buttons.
The default background color can also be changed by holding down the CLIPBOARD button as you scroll though the color options by using the ASSIGNABLE SW 1 & 2 buttons.
Cakewalk Instrument Definition
This new file is one that I programmed for Version 2 + Fantom X series keyboards. You may now access User and Card sounds and well as Preset I patches. 'Right click' and 'save target as' the following link -
Fantom X Version 2 Instrument Definition

Fantom FA-76 Instrument Definition
/